Community
"gentle, patient coaching and good humor"
2015-05-08T16:02:49+00:00
"gentle, patient coaching and good humor"
http://hitsthespotyoga.com/testimonials/303/
"he has a special ability to empower his students"
2015-05-08T16:12:02+00:00
"he has a special ability to empower his students"
http://hitsthespotyoga.com/testimonials/312/
"helps me to be at ease and at peace"
2015-05-08T16:11:20+00:00
"helps me to be at ease and at peace"
http://hitsthespotyoga.com/testimonials/310/
"a life-altering experience"
2015-05-08T16:11:41+00:00
"a life-altering experience"
http://hitsthespotyoga.com/testimonials/311/
"a life adventure not to be missed"
2015-05-08T16:07:21+00:00
"a life adventure not to be missed"
http://hitsthespotyoga.com/testimonials/306/
"Scott's knowledge of yoga practice and philosophy is vast"
2015-05-08T16:10:56+00:00
"Scott's knowledge of yoga practice and philosophy is vast"
http://hitsthespotyoga.com/testimonials/309/
"a gifted and respectful teacher"
2015-05-08T16:08:24+00:00
"a gifted and respectful teacher"
http://hitsthespotyoga.com/testimonials/307/
"an incredible, wondrous journey of self discovery and personal transformation"
2015-05-08T16:12:26+00:00
"an incredible, wondrous journey of self discovery and personal transformation"
http://hitsthespotyoga.com/testimonials/313/
Trainings
200-Hour and 300-Hour
Yoga Teacher Training Programs.
Learn to teach yoga with confidence
as you transform your personal practice.
Certified by and registered with
Yoga Alliance.
Events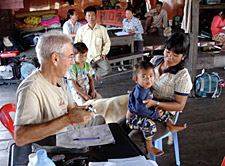 To Know Yourself:
A Day-Long Yoga and Meditation
Retreat and Benefit
with Marc Cohen and Scott Willis.
Special presentation by
Dr. Robert Nassau.
All proceeds donated to
The Women's Resource Center
in Siem Reap, Cambodia.
(Read more)